Wildhorse Creek Luxury Apartments Declutters the Ceiling Using ModuLED Stealth Track System
"Many designers would be tempted to utilize a basic 8" round downlight in order to get the foot candle distribution necessary for such a tall space,"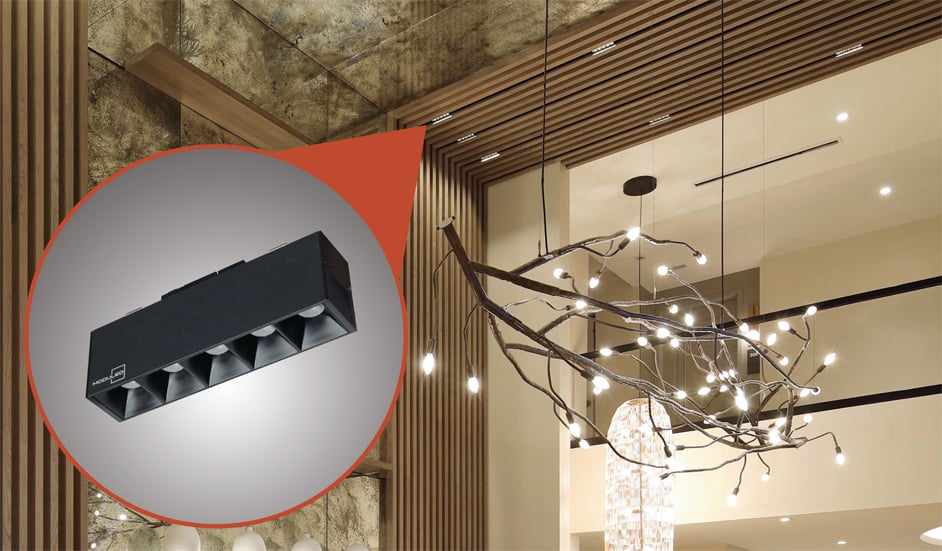 When Tim O'Sullivan of Professional Lighting Services was approached by a high-end developer to provide lighting recommendations for a new apartment building, he had no idea how his creative problem solving would come into play. The developer had worked with an interior designer out of New York who had extensive experience designing high profile hotels. "The designer did a fantastic job," said Tim. "There were a number of custom lighting features throughout the project that were important elements to the overall design."
The apartment building was promoted as "The Ultimate Living Space" and consisted of 200 individual units, a 24-hour fitness center, game room, resident lounge, cyber lounge, but the shining star to the project was the first-floor lobby highlighted by its 40' ceiling and feature wall. The room succeeded in providing a "wow" moment for prospective tenants upon first entering the space.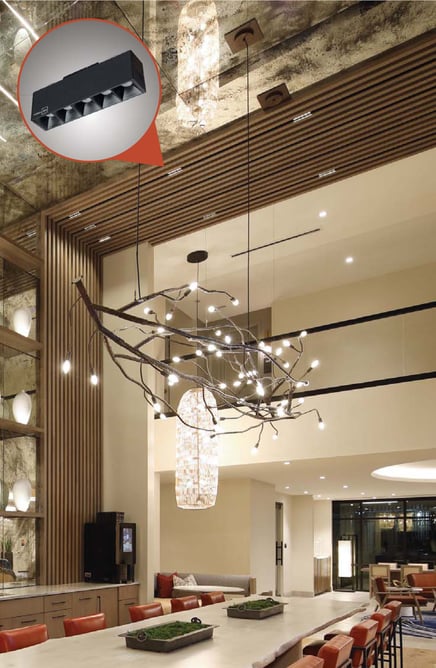 The feature wall consisted of elegant wood slats that stretched all the way onto the 40' tall ceiling which was flanked by massive antique mirrors. The wooden slats had a narrow space in between each strip. The original specification called for stand-alone surface mounted downlight or fixed downlight multiples, but as is often the case in construction projects of this scale, many lighting fixtures needed to be design optimized for real world application.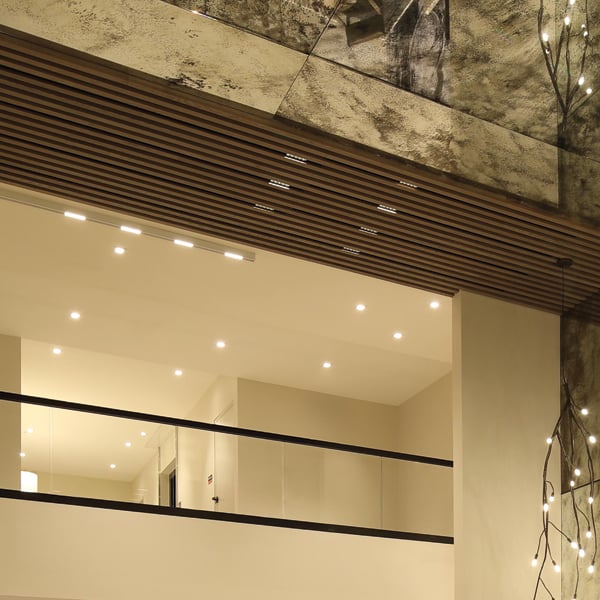 For this project, Tim found that by using ModuLED Stealth modular track mounted system, rather than fixed downlight multiples, was a superior solution for multiple reasons: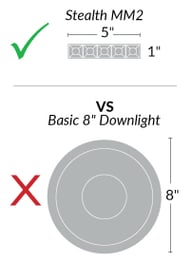 "Many designers would be tempted to utilize a basic 8" round downlight in order to get the foot candle distribution necessary for such a tall space," said Ronn Koehler, National sales Manager of ModuLED, "But by utilizing ModuLED's small aperture directed module, we were able to get a same light intensity using our Stealth MM2 louvered directed downlight with much less glare. (Unified Glare Rating (UGR) on the ModuLED MM2 is <10).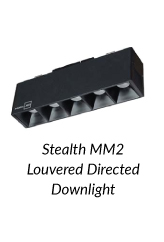 Second, the thin design of the system, coupled with the black color of the track were a perfect fit for the space between the wood slats used in the feature wall. The Stealth MM2 fixtures used were multiple 5 cell x 1" lighting modules which were completely unobtrusive in the wall and ceiling. Even though the track was surface mounted, the track itself was virtually invisible to the eye. As the track sunk into the background, the light itself was enhanced without distraction.
Third, because the fixtures are modular, this gave the developer flexibility for the future. The original spec called for downlights that were fixed in place, which meant that if the space were to ever be redesigned, rearranged, or staged for a special event, the original specified downlights would not allow for reconfiguring. Going with a ModuLED's modular design gave the developer the peace of mind that lighting could change with the needs of the room.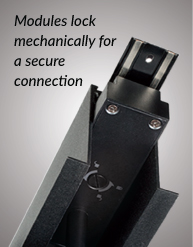 Lastly, ModuLED's rectilinear track system has a mechanical attachment which is a superior solution when considering lighting for a multi-story building. "Many of today's track systems use magnetic attachments," said Tim, "but that can cause lights to flicker. I think the ModuLED mechanical attachment was a better approach."
One final benefit to ModuLED Stealth was price point and lead time. "We found that using a modular solution was more about design optimization than value engineering." Tim concluded, "ModuLED offered a custom look with a lower price point and faster delivery time. Using Stealth by ModuLED was the smarter solution and was a win-win for all parties."

If you'd like a PDF copy of this Case Study - CLICK HERE!
About Professional Lighting Services: Located in Indiana, Professional Lighting Services is dedicated to providing the most effective lighting and controls solutions for your project. From single-family residential developments to large-scale commercial and industrial buildings, the knowledgeable team can assist in lighting solutions and help bring your project to fruition
About ModuLED: ModuLED is a rectilinear track and illuminated module lighting system by Liton Lighting. Liton has been a leader in Specification Grade, Commercial and Residential recessed and track lighting since 1996. Manufactured in its 100,000 square foot facility in Los Angeles, ModuLED brings ambient, spot, and wall wash lighting together along with Exit & Emergency Lighting and Audio & Visual Technologies to create an uncluttered ceiling that is fashionable, functional as well as affordable.